Volunteer of the Month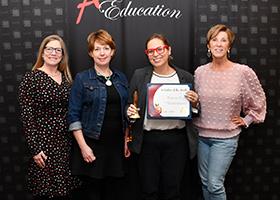 Phone:
Email:
Degrees and Certifications:
Ms.

Vanessa Rivera

Anne Arundel County Public Schools offers a great many paths for volunteerism. Tutoring, mentoring, chaperoning, and guest reading are just a few of the ways community members can support our schools. But there is another type of volunteerism that is often forgotten -- the support given to us by those who take the leadership route. These are our volunteers who represent their school clusters on the Citizens Advisory Committee or Superintendent's Parent Involvement Advisory Council and serve as officers of the Anne Arundel County Council of PTAs.

Today we are here to celebrate the dedication of one such volunteer. Ms. Vanessa Rivera the Board of Education is thrilled to honor you as our March 2020 Volunteer of the Month.

The Anne Arundel County Council of PTAs is an umbrella group that provides support, mentoring, training and networking opportunities to local PTA chapters. Ms. Rivera is the current president of the council. As leader, she is often seen out in the schools helping to get a new PTA group up and running or helping them prepare for an audit. Jenn Lombardi, Senior Manager of Schools & Family Partnerships appreciates all that Vanessa does. "Her knowledge of how PTAs work mixed -- with a calm, unflappable spirit -- makes for a powerful combination."

Ms. Rivera's service to AACPS is not limited to the work she does with the local units. She has also, according to Family Involvement Specialist Shelley Davenport, assisted in the procurement of systemwide grants. "Ms. Rivera is invested in finding any and all opportunities to support our students. From speaking to the Local Development Council to pulling together all the needed paperwork, her support of the Trauma Sensitive Classrooms Grant has been remarkable, and I can't thank her enough"

Vanessa focuses not only on the success of students while they are attending AACPS but also their success after they graduate. She is a strong supporter of the Anne Arundel County Council of PTAs scholarship program that honor students who demonstrate academic success and have shown leadership in the school community. Library Media Specialist Tammy Duvall shared "Vanessa works tirelessly as the AACC PTA President and Scholarship Chair. She has helped to improve the future of countless Anne Arundel County students over the past few years. It is an honor, a privilege, and a joy to work with her."

Lisa Shore, who serves as Secretary of AACC PTA shared "In our roles with AACC PTA, Vanessa and I have served on many committees together – including the school board nominating commission and the mental health task force. There are so many extra duties and responsibilities for AACC PTA Presidents! But what impresses me the most about Vanessa is that she shares her love of reading and books by having a Little Free Library in front of her house! Neighborhood kids can borrow books for free and this inspires so many kids to read!"

I think we can all agree that Teresa Tudor, who recently retired from a position as Senior Manager of the Office of School & Family Partnerships, hit the nail on the head when she said "Vanessa was a joy to work with at AACC PTA! She is very organized, energetic and always ready to assist any local PTA! Her dedication to all students, teacher and parents in AACPS is proof that we are all better together!"

Ms. Rivera you are a great asset to the entire Anne Arundel County Public Schools community, and we thank you for your service as a volunteer and for your dedication to the AACPS family.