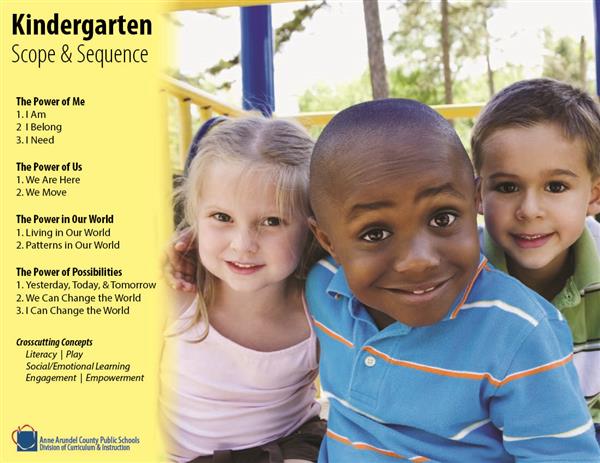 Kindergarten Curriculum
AACPS embraces a balanced approach to literacy instruction at the elementary level; whole language and phonics instruction are both valued. A compilation of learning blocks work in tandem to address the variety of needs of developing readers and writers. These include:

Shared Reading is an interactive reading experience that occurs when students join in or "share" the reading of a text with the teacher. As students read and reread the text, the teacher models thinking and poses questions to students that support student mastery of a variety of on-grade level literacy standards. A variety of big books and poetry make up the text selection. This time to read as a community helps build a collaborative culture of learning

Foundational Literacy Skills

Two curricular pathways are available to students based on data from a screening of early literacy skills: F&P Phonics, Spelling and Word Study and Wilson Fundations. By providing two pathways, students access differentiated instruction to meet their unique needs. Thus allowing equitable access for all students to meet the common core state standards.

F&P Phonics, Spelling and Word Study

Students engage in learning phonics and word analysis strategies to foster growth in reading and writing. This systematic curriculum focuses on the building blocks of written language. The program teaches students to use sounds, letters, and words in reading and writing. Students receive direct instruction from the teacher and have time to apply the skills independently and in small groups.

Wilson Fundations

Fundations uses a multisensory structured literacy approach to teaching foundational reading and spelling skills.This systematic curriculum teaches accuracy of decoding, spelling, and handwriting in a carefully integrated and scaffolded sequence. Students engage in lessons that build on previously taught skills.

The program teaches students to use sounds, letters, and words in reading and writing. Students receive direct instruction from the teacher in a whole or small group setting.

Writer's Workshop is an innovative approach to teaching writing that is built around student choice and ownership. Writer's Workshop follows the gradual release of responsibility, or mini-lesson model. During Writer's Workshop, the teacher begins with explicit instruction on the writing standards and then gives students an opportunity to "try out" the skill or strategy under the teacher's supervision. As students write independently, the teacher works with small groups of students or individual students to provide differentiated instruction around a skill or strategy that students apply to their own writing.

This student-centered block invites learners to further investigate and reinforce skills and concepts explored during other blocks such as Foundational Literacy Skills, Interactive Read Aloud, Explicit Comprehension, Shared Reading, Science and Social Studies and more.

Teachers work with small, homogenously grouped groups of students on the same instructional level as defined by the Fountas & Pinnell Benchmark Assessment. The grade level standards used to drive instruction correspond to the instructional level of the students. This differentiated instructional time provides teachers an opportunity to target students' precise strengths and needs as developing readers.

During Interactive Read Aloud, texts are typically on or above the average level of the students in the class. The teacher reads the text to the students, which allows students an opportunity to engage in concepts and ideas presented in texts that they would not be able to access independently. The teacher models authentic thinking through "think alouds" and serves as the facilitator by posing a series of scaffolded questions to students who engage in "turn and talks" throughout the read aloud. The students play an active and significant role in processing the text.

The primary goal of the Explicit Comprehension is to provide students with tools, skills, and strategies to enhance their understanding, or comprehension, of texts. In this ten to fifteen minute block, teachers use previously visited texts to teach skills and strategies that support student mastery of on-grade level standards. Through the mini-lesson model, the teacher explicitly models for students and invites students to actively engage in the process while the teacher formatively assesses their understanding of the task. At the conclusion of the mini-lesson, students independently apply the learned skill or strategy to a new text.