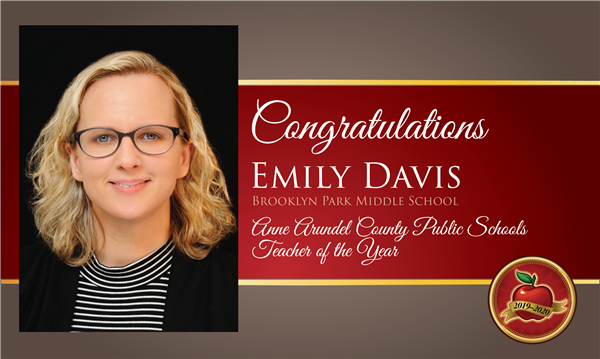 Brooklyn Park Middle School Language Arts teacher Emily Davis has been named the 2019-2020 AACPS Teacher of the Year. Superintendent George Arlotto made the surprise announcement to Davis and her colleagues during what they thought was simply a virtual staff meeting on April 20.

"First and foremost, for me this is about being a voice for my students, for my school, and for other teachers in Anne Arundel County," said Davis, who has spent six years sharing her passion for reading through arts integration strategies. "I am committed to supporting the furthering of equity professional development, to filling in those gaps that exist for a lot of our students, and to representing the amazing teachers that we have in this county." Read the full press release.
Mark Your Calendars: Excellence in Education Rescheduled to September 15
The Excellence in Education Awards Dinner, originally scheduled for April 16th, was postponed due to the COVID-19 pandemic. While we are disappointed that we could celebrate together as planned, we look forward to recognizing our 54 Teacher of the Year honorees this Fall. The new date for our Excellence in Education Awards Dinner is September 15, 2020.

We are planning a festive Fall celebration of the extraordinary educators who teach, nurture, and support our students in Anne Arundel County public and independent schools and we hope to see you there! Tickets will be on sale Summer 2020.
Meet our Teachers
Read stories by past AACPS Teacher of the Year winners and nominees that take you inside some of the best classrooms in Anne Arundel County.
Contacts
For questions about the Teacher of the Year selection process or awards ceremony:

Carol Ann McCurdy
Director of Partnerships, Development & Marketing
410-222-5829
cmccurdy@aacps.org

For questions about the application or submission form:

Lauren Grey-Hawkins
Business & Communication Specialist
410-222-5371
lgrey-hawkins@aacps.org